ACCA

MEMBER RETENTION
A target-smashing global retention campaign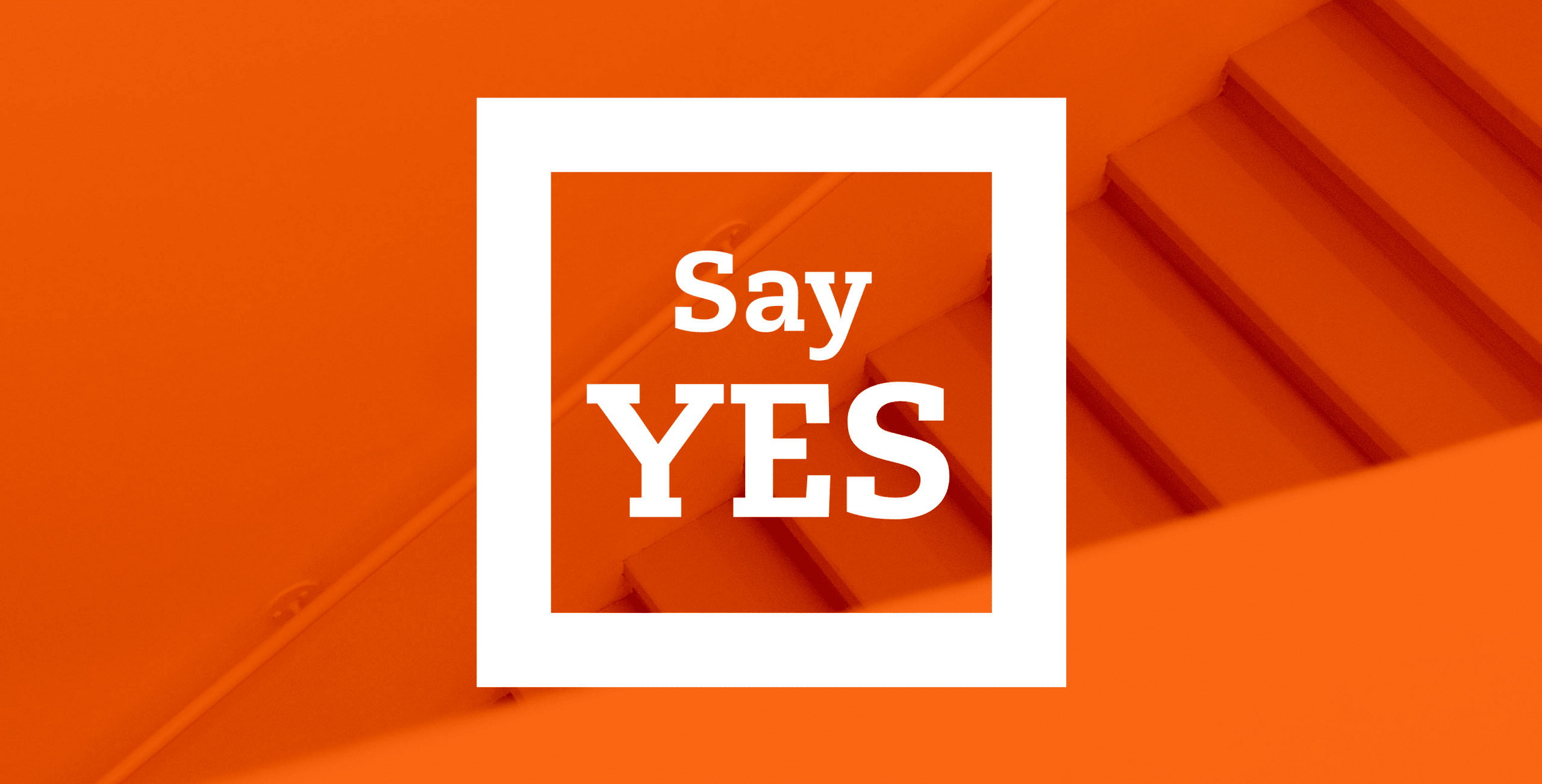 ACCA's annual retention campaign is a priority moment, where members pay their renewal fees and affiliates – those working towards membership – subscribe again.
But this year was like no other. The uncertainty of the pandemic, worldwide economic turmoil and rising unemployment put ACCA's retention targets at risk.
That's why ACCA asked us to create their global retention campaign, with a target to get nearly all of their members and affiliates renewing for another year. With the sensitivities around many people's financial situations, we had to communicate the value of ACCA membership more persuasively than ever before.
The pressure was on.
what we did
Strategy
Paid social
Email
Direct mail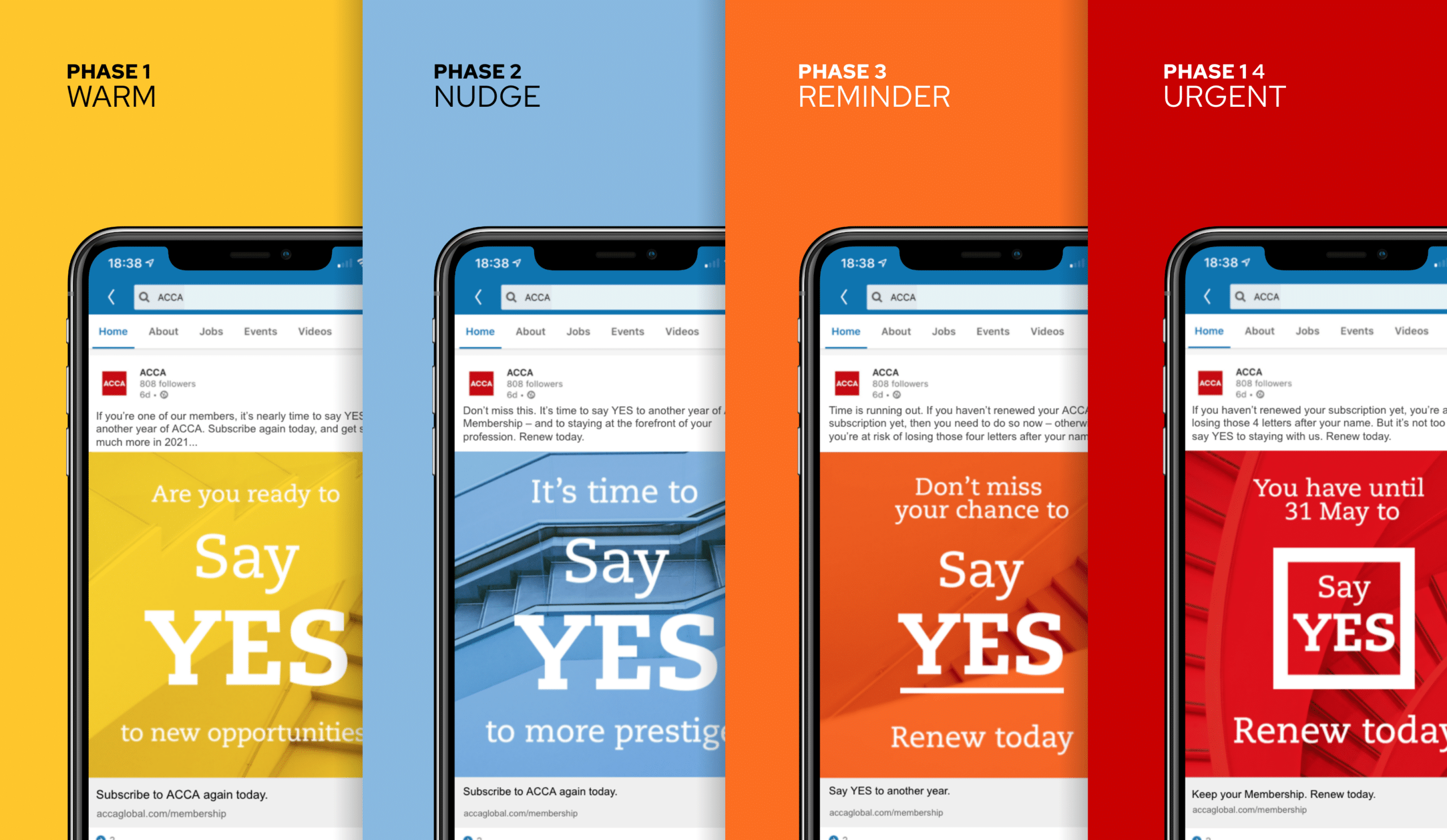 After 2020, we realised that an urgent, pushy approach wasn't appropriate.
We had to change the conversation, and move our audience away from seeing renewal as an inconvenience. Instead, this campaign needed to be about opting-in to another year of everything ACCA has to offer.
So we asked people, quite simply, to say YES.
This was renewal, reframed. Renewing is saying YES to being part of a network of the world's brightest finance professionals. It's saying YES to the resources that will help you succeed. It's saying YES to all the doors that an ACCA membership can open for you.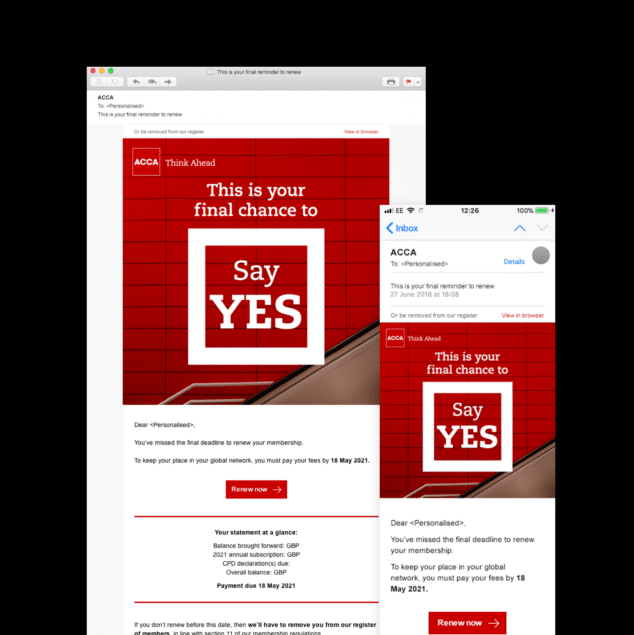 RESULTS
Retention target beaten

44

–

52

%

Email open rate

12

–

16

%

Click-through rate
Our strategy carried this message across seven months. But we didn't just create it and leave. We worked with ACCA as strategic partners throughout, closely monitoring email response rates and engagement on social – and adapting.
As a result, we spotted lapses in engagement, and responded – building new creative segments and introducing incentives to make sure no member or affiliate slipped through the net.
We're delighted that this campaign was a roaring success – exceeding its final target. By reframing the conversation, we kept ACCA's membership base strong.
Claire Sleep Head of Marketing Planning

"The relationship with Consider allowed us to be truly agile – creating a real benefit for me – and our members"
WANT TO SEE MORE?